George wasn't sure how much more she could take, not that her opinion seemed to matter. Ball-tied, hood-gagged, and trapped inside her basket-cage, the amazons had been carrying her through the tunnel for

hours

. Their way opened into a large cavern, they crossed a rushing subterranean stream on what to her alarmed eyes was a

very

narrow stone bridge, then entered another narrow tunnel. At one point she actually dozed off, the swaying of the basket and her nervous exhaustion having overcome her fear. After an unknown interlude she snapped alert to find her condition unchanged. She was still cargo being carried into the dark unknown.

Suddenly, there was daylight up ahead. They passed an open gate of heavy timber reinforced with iron straps and exited the cave into a forested valley. George blinked as her eyes adjusted. The surrounding cliff walls were twice the height of the arroyo where they had moored GWENDOLINE, but the valley floor was only slightly wider. Her amazon porters continued carrying her along without breaking stride. There were

actual trees

growing in the valley, conifers of some sort. Rust-red needles carpeted the sandy floor, crunching under the amazons' boots. Under other circumstances, George would have savored the bracing scent of the pines and the sunlight filtering through their sighing branches. Songbirds and hand-sized pterosaurs were flitting and gliding overhead, chirping and chittering.

Yes

, George sighed through her gag,

under other circumstances

...

They passed a series of terraces cut into the side of the left-hand cliffs. Men wearing boots, loincloths, and straw hats with broad brims were weeding crops and lugging jugs George presumed were full of water up and down a series of ladders. The very nearly naked men were in their late teens, twenties, or early thirties, and were strong, strapping, well-tanned examples of the masculine physique. George blushed in embarrassment—on their behalf.

"Woo-hoo!" one of the amazons in George's party shouted. "Lookin' fine, fellas!"

"Been on watch, long time!" another of the amazons yelled. "We come back make jûb-jûb, later!" The warrior women hooted and pumped their fists.

One of the men, somewhat older than the rest, leaned on his hoe and glared at the passing patrol. "You not

look

like old women," he shouted back. "Stop begging for jûb-jûb when it not your turn and let my gang work!"

"We not

beg

for jûb-jûb," a third amazon shouted. "We

promise

jûb-jûb!"

"My mistake," the male overseer shouted back, "you

are

old women."

The amazons hooted and laughed, again, and continued on.

George hadn't followed every nuance of the exchange—okay, she'd followed

very little

of the exchange—but she'd followed

enough

to continue blushing.

She was carried past more terrace farms, tended and untended, and several cave openings, also with doors of heavy timber reinforced with iron bands. At one point, a dozen amazons riding bipedal dinosaurs thundered past. Later, they encountered a single rider on a full-sized mount leading a string of smaller, younger dinosaurs of the same species, all muzzled and tethered to a single lead-line.

As the march continued, George began to miss the relative coolness of the dark tunnel they'd left behind.

Finally, after something like two more hours, they approached a walled compound built against the side of the far cliff. George noted that like the terracing and limited construction they'd already passed, the compound's walls mimicked the local geology. The irregular blocks had been chosen to match the surrounding strata. Closeup, the camouflage, if it

was

camouflage, was of limited effectiveness; but George imagined that from the air this would appear to be an unusually green but unimproved and presumably uninhabited valley.

I wonder how many such 'settlements' Bonnie and I passed and failed to notice,

she thought.

Unless we chose to swoop between the valley walls

—

which we most assuredly would not do

—

all of this would easily be missed

.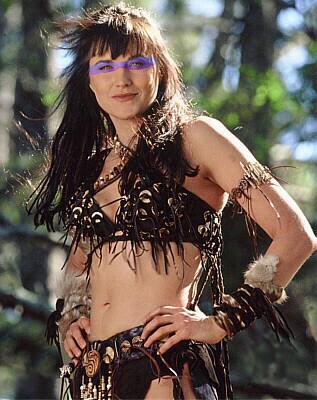 A small portal tucked into a fold in the wall opened and an amazon emerged. She was somewhat older than most of George's captors and was similarly dressed (

un

dressed), and with the same narrow mask of blue and purple paint. The decorations of her belt and brassiere were somewhat more elaborate than the others', but her costume was just as functional (and minimal). Also like the others, she was tan and fit. Her hair was loose, long, dark, and straight, with a fringe of bangs covering her forehead. She gazed at George with strikingly blue eyes, a smile curling her lips.

George's captors bowed, ever so slightly. "Hail Bondara, daughter of Fettera," one of them said in what was obviously a formal greeting.

"Cincha," the newcomer nodded. "This the little pale one," she noted. She was referring to George, of course.

"Yes, my Queen."



So this is the Queen

, George thought.

She's quite... formidable

.

"Flashy-flashy signal arrive four hour ago," Bondara said. "Trussa catch other one. Bring her here... tomorrow."

The amazons laughed. "Tomorrow," Cincha chuckled. "Trussa take her time."

Bondara nodded, then gestured at George and her basket-cage.

The amazons set down their burden and untied the basket's lid. George was lifted out and the rope enforcing the ball-tie was unknotted, uncinched, and uncoiled. George moaned through her gag as she straightened her cramped, sore legs. Her booted ankles were still lashed together and her wrists behind her back. Her handlers hauled her to her knees and began unlacing the hood-gag. One by one, the straps went slack, then the main hood was pulled from her head. George struggled to expel the wad of cloth filling her mouth and the Queen, herself, reached out and plucked it from between her lips.

George worked her aching jaws and licked her lips with her dry tongue. "If I might trouble Your Majesty for a drink of water?" she croaked.

Still smiling, Bondara made a gesture.

George heard the

pop

of a plug being pulled, a water-skin was held to her lips, and cool, blessed water splashed her face. She drank, thirstily.

"Enough," Bondara, barked, and the water-skin disappeared. "More, later," the Queen promised. "You be sick if you drink too much."

"Thank you, Your Majesty," George sighed.

"Your Majesty," one of the amazons chuckled.

"Shut your gob-hole, Twynah!" Cincha barked. "Pale face being polite. Maybe I tie you to rock 'til

you

learn to be polite."

"Your Majesty," George continued, "could I please be untied? My clothing is quite dusty and in disarray and..." She noticed the Queen had shaken out the stuffing cloth and was folding it to form a long, narrow bandage. "Uh, I assure you there's no need to keep me a helpless prisoner, and..." Bondara had tied an overhand knot in the center of the cloth. "Oh, bother," George sighed.

Bondara thrust the knot into George's mouth, cinched the cloth

tight

, and tied a square-knot at the nape of her neck.

"Queen want help with pale Luroper-girl?" Cincha asked, and the others, including the Queen, laughed.

Bondara lifted George onto her shoulder with effortless ease. "Cincha

also

polite," she chuckled, "but, no, 'Her Majesty' not need help." She turned and carried her bound and gagged burden towards the compound's gate.

Balanced on her tummy with her feet to the front and her head to the rear, George watched the amazons laugh and point, and then she was through the gate and found herself in another long tunnel.

'Trussa catch other one,'

she remembered.

These half-naked savages have captured Bonnie, as well!