There was a women's restroom on the top floor, but cleaning and maintenance wise it was low man on the totem pole, so Clem much preferred the facilities on the second floor. She bounced down the stairs and used the facilities in question, including the ancient and very noisy hot air blower to dry her hands. She made her exit from the bathroom—and froze. Coming towards her was—"Professor Pappas!"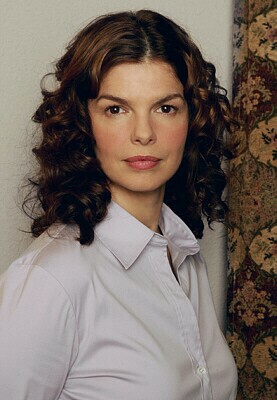 "I thought I heard someone," the professor said with a happy smile. Pappas was forty-something with brown hair, brown eyes, a slender figure, undeniably attractive features, and was very popular with her students. She was wearing a white cotton blouse, dark gray skirt, hose, and black pumps with sensible heels. What appeared to be a rolled set of architectural plans were rucked under her left arm and an iPad was in her right hand.

Another not-so-minor detail: Kimberly Pappas was Clem's faculty adviser.

Clem gathered her wits. "Uh, I thought I left something upstairs." She nodded at the ceiling. "In one of the classrooms. I come here to study."

Professor Pappas was still smiling. "Your finals are over, aren't they?"

Clem nodded. "Uh, yeah, but I was reading—before, when I thought I lost my jacket—which I didn't—I mean, I found it."

Cool it, you idiot!

she chided herself.

Stop acting like you've been caught doing something naughty—even if you

have

been caught doing something naughty

. "I'm done here."

Pappas nodded. "I'm verifying the old plans of Nicholson Hall against the electronic version. This summer we plan to—" She did a double take and her smile broadened. "Wait a minute, as I recall, you don't have any plans for the summer, right?"

Clem blinked in surprise. "I'm going to stay at my roommate's house; but no, not really... not yet."

"This could work out great!" Pappas gushed. "The Department got a grant from Salamandras International to refurbish this building. Tentative plans are to knock out a few walls, add a few more, and create some symposium rooms with comfortable seating, better-equipped classrooms, lounge areas for studying, and even a snack bar. Also, Wi-Fi repeaters, smart boards, the usual hi-tech gizmos that Salamandras likes. Anyway, I need someone to verify the furniture inventory, room-by-room."

Clem frowned. "Furniture inventory?"

"Nothing elaborate," Pappas continued. "Room number one—X number of desks, Y chairs, Z tables—on to room two. I'll give you an iPad with an inventory app. Type in the room number, touch the appropriate furniture icon, type in the count, note how many are usable and how many are broken—easy-peasy." She started tapping the iPad's screen. "I'm sure I can—yes, here's the grant agreement—I can offer you housing and a stipend equal to your scholarship."

"That sounds great," Clem answered. It

did

sound great, but her immediate thoughts were on the bound and gagged damsel languishing in ATTIC 3B NORTH.

"Come to my office and I'll print out the paperwork," Pappas said, clearing the iPad.

"Okay," Clem nodded. "What time tomorrow?"

"Oh, right now," the professor clarified. "I know it's getting late, but—I know, we'll formalize the agreement and I'll take you to dinner at the Faculty Club. My treat." She turned and started towards the main stairwell, then paused. "You

did

say you were done here."

"Yeah," Clem acknowledged, "sorry." She hurried after the professor. "Here, I'll take those," she offered, taking the rolled plans.

Gwen will understand

, she thought.

I'll be as quick as I can

. The ghost of a wicked smile curled her lips.

Of course, I'll leave in her ball-gag 'til I explain what happened—but she'll understand

.