Rupandra returned in less than two minutes, carrying coils of white nylon rope and a roll of silver-gray duct-tape. Still unable to move, Jane felt loops of braided nylon tighten around her right ankle and the lower right table leg. The rope was cinched and knotted, there was a brief pause, then rope tightened around her left ankle and the left lower table leg. Jane's knees were splayed, but the spread wasn't extreme; it was a small table. Rupandra stood, smiled down at her prisoner, and began tightening loops of rope around Jane's left thigh and just below her bent knee. A knot was tied, the free end cinched around the upper left table leg, the slack was removed, and a knot tied. She walked around the table and bound Jane's right thigh and knee in similar fashion.

Next, Rupandra lifted Jane's cuffed hands from above her head and reached for the roll of tape. "Separate your hands as far apart as the cuffs will allow," she ordered, "and hold your fingers straight out and together, like you're about to clap."

Jane complied, then watched as her Mistress (

Kidnapper!

the inner voice insisted) mummified her left hand, fingers, and thumb in tight, multiple layers of tape. Next, Her right hand received similar treatment. When Rupandra finally put down the roll, Jane's hands had become tightly wrapped, silver-gray flippers, useless for untying knots, useless for much of anything.

Rupandra hitched another length of rope through the connecting chain of the cuffs, lifted Jane's cuffed and now tape-encased hands above her head, hitched the free ends around the upper table legs, pulled out the slack, and tied several knots.

Jane was now stretched across the table, flat on her back with her knees and elbows bent, lashed down and helpless.

"Perfect," the smiling kidnapper sighed. "There's nothing as beautiful as a bound warrior-slave. "And now, let's see what we can learn about our new toy." She picked up Jane's iPhone and sat in the chair on the "new toy's" right.

Jane watched Rupandra's fingers tap and glide across the iPhone's screen. She surmised her Mistress (

Kidnapper!

) was surfing the web and probably conducting a search. Jane, herself, was the obvious subject.

"Ah," Rupandra said after several seconds. Her smile broadened. "Another hero!" She shifted her gaze to the gagged face of the hero in question. "That explains your scars. Shooting

through yourself

to stop the bad cop who was using you as a human shield! Now

that's

dedication. No wonder they gave you a medal." She held the iPhone so Jane could see the screen.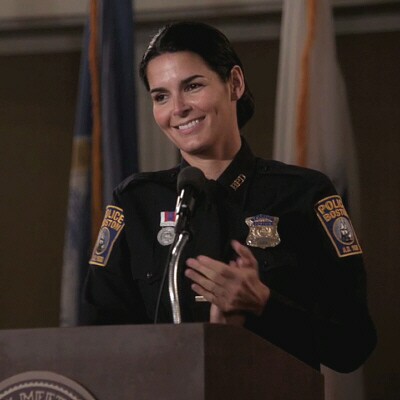 Wonderful

, Jane thought. The screen was displaying a photo taken by the Boston Globe at the banquet where Jane was awarded her medal. Strangely, Jane found she could concentrate on the subject without fear and panic. Her inner voice was still jabbering, but it was an increasingly distant distraction. Thanks to her inescapable bonds, whether or not she was capable of disobeying her beautiful Mistress was very much moot.

"The gods mock me," Rupandra laughed, shaking her head. "I learn of a beautiful, athletic, hero-cop and decide she simply

must

be mine—" She leaned down and kissed the entry-wound scar on Jane's lower abdomen. "—and

another

such creature rings my doorbell and offers herself! What can it mean?" She kissed the scar again, then dragged her wet, warm tongue across the small, puckered blemish.

"Mrrrfh!" Jane tugged on her bonds and

screamed

through her panties-and-tape-gag.

It burns! It burns!

She spit out her panties and gasped in pain. "Let me go, you

bitch!

" she screamed. "Let me go or I'll—Mrrpfh!"

Rupandra had stuffed the panties back in Jane's mouth and her right hand was tightly clamped over her lips. She leaned close until her smiling visage was inches from Jane's grimacing, wide-eyed face. "Such a strong will," she cooed, her flashing green eyes locked with Jane's. She pursed her lips and gently blew.

Jane's nostrils flared and her body

shivered

in delight. The thrill intensified as Rupandra's left hand cupped her left breast and gently squeezed.

"Such a strong warrior," Rupandra mused. "Keep your mouth closed for Mistress," she ordered, then withdrew her hands.

Again, Jane was paralyzed, not able to move anything other than her eyes. She watched as Rupandra tore strips of tape from the roll and tacked them to the edge of the table.

"Lips together, slave," Rupandra ordered.

Jane bit down on her panties until her lips met—

Nooo!

her inner voice screamed—and Rupandra stretched and plastered a strip of tape across her mouth. The first sealed Jane's lips, the next two formed an "X" over the first, and the final three tightly covered her lower face from ear-to-ear and from just under her still flaring nostrils to the point of her dimpled chin.

"And now we can continue," Rupandra said. She kissed Jane's glistening forehead, then sat back down. "You may fight all you wish, my warrior. I'm afraid you will feel a little discomfort as I continue healing your scars—"

Jane blinked in confusion.

Healing my scars?



"But the pain will provide a focus for your warrior spirit," Rupandra continued, "as it did with my

other

hero-cop."



Again with the 'other hero-cop,'

Jane thought.

What is she babbling about?

Then, Jane

screamed

through her gag and tugged on her bonds. "Nrrrrf!" Rupandra's tongue was back, licking her wound

and

surgical scars! "M'mmpfh!" It burned like a hot iron!

"Poor Jane," Rupandra sighed. "It is necessary, my slave. Necessary, to make you perfect." She dragged her tongue the full length of Jane's surgical scar, then lifted her face and smiled. "I know what will distract you," she chuckled.

Jane's eyes popped wide. "Mmmf!" Rupandra's right hand was stroking her pussy! Jane squirmed and strained to close her legs, but it was a futile effort. The gentle massage continued. "M'mfrh!" Then, Rupandra's middle finger parted Jane's labia and began stroking her clitoris. Jane quaked with pleasure—with

indescribable

pleasure—and fought her bonds.

"Yes, my warrior," Rupandra purred, "fight for your freedom." She licked Jane's scar, again. "Soon, freedom will mean the joy of serving your Mistress and you will be mine, body and soul. But for now, fight! Fight your bondage, fight the pain, and above all, fight the orgasm building in your loins as I feed upon your strength. Do not cum, my slave," she ordered. "Do not cum until Mistress is done healing your scars and has satiated her hunger! Fight, my warrior!"

Jane writhed in her bonds, trapped in their steel and nylon embrace. Her wrapped fingers and stuffed and sealed mouth added to her helplessness. Despite the pain of whatever Rupandra was doing to her scars as she dragged her tongue across her flesh, Jane felt neither fear nor terror. And because of the cunning, skilled manipulation of her pussy by Rupandra's talented fingers, she was increasingly aroused; but unable to cum! Jane

wanted

to cum, just as she wanted to escape, but she could do neither.